Premier Cashback Review
Review of Premier Cashback Opportunity
Here I want to review Premier Cashback, and my experiences with this company. But first the background, because without a little history you might think this is a new program, when in fact it's been successfully paying out for members since 2008.
Earlier in 2015 a well established business, "Chartfords", changed its name to Premier Cashback, the company I'm reviewing. You can read at the end of this post the reasons for the name change – but in a nutshell, it was because the company expanded and took on more retail partners.
Premier Cashback operates on the principle of the Loyalty Card that is now becoming popular on the High Street.
 The Loyalty Card Concept Explained
You'll probably already be familiar with the loyalty cards given out by several major restaurant and coffee chains. Now, imagine a coffee loyalty card that gave you a cashback reward, instead of free coffee.
Then imagine that  purchases of coffee (and tea, and …) drinkers worldwide…. contribute to help you qualify for your cashback reward.
Hard to believe, but that's the concept behind Premier Cashback. All purchases from Premier Cashback retail partners contribute to a global sales pool that fuels the cash rewards.
So having explained the concept and the business I'd like to review my experience as a member of Premier Cashback, starting with my reasons for choosing this above all the other very genuine businesses available.
Why Join Premier Cashback?
The features of Premier Cashback that I found so attractive for starting a home business are:
One-off purchase – no auto-ship that can get cancelled as soon as budgets get stretched
One-off purchase means 100% member retention so you don't have to keep finding new recruits
No monthly fees
Never lose the position you reach, and no sales targets to meet
70% of the club's sales are returned to the members
Compensation plan explains exactly how this money is generated, by genuine product sales
7-year old company with a flawless track record of delivering goods and paying commissions
Largely untapped market-place – you won't be competing with a mass-marketing exercise
Totally transparent, you can see any member's position within the company if you know his nickname
Go as slow or as fast as you wish – you are in control
Worldwide sales help ALL members to earn, even passive members
When selecting the best home business, those are the pointers I have found important, so it's likely that others will feel the same too…
Why I Chose This Home Business
Choosing the best part-time or full-time home business will depend on your own particular circumstances. So what's right for some people may not suit your temperament / time available / budget.
I have tried a few home businesses before settling on Premier Cashback, the reason I failed with the others was usually that I couldn't recruit and retain a team of people fast enough to even meet the monthly auto-ship costs, never mind make a profit after purchasing the month's products.
More importantly, neither could anyone I introduced to those other businesses, so they quickly left and I was forever having to replace my team.
People, including me, hate to sell and don't want to sell.
Premier Cashback members can earn cash rewards just for being customers.
I also liked the fact that the Premier Cashback concepts are becoming familiar in many "big-name" companies and banks. So you'll often see TV campaigns talking about:
Loyalty Points,
Cash Back and
Refer a Friend
Premier Cashback Marketing Methods
Members who choose to promote the PC concept can do so by a variety of ready made methods:
Webinars (with question and answer sessions) that you and your prospects can watch from the comfort of your home
Professionally organized hotel meetings run free of charge by leaders in the business to explain the concept to prospective members
A Facebook group that you can invite your prospects to for support by leaders and to get their questions answered
When people understand exactly how the cashback rewards are generated they usually can't wait to join, but it's not an easy concept for someone new to the business to put across, so presentations by other successful members take away any need to explain what is quite a novel concept.
The Real Clincher
The biggest feature of this business for me is that I am a CUSTOMER, not a salesperson. So there are…
No sales targets
No monthly product commitment
No start up charge – just buy one product
When I shop at my local supermarket I buy when and if I want a product. This is exactly the same with Premier Cashback, but with the extra benefit that having made one purchase only I am qualified to earn cash rewards based ALL worldwide sales of ALL products. The clever compensation plan means that this applies equally to works of art from the Chartfords gallery, and now includes health products that people are buying monthly.
What Can You Earn?
As with any business, you will reap higher rewards if you become active and promote the products.
BUT – if you don't have the time or inclination to do this (and let's face it, most people fall into that category) you will still earn cashback as a passive member.
Disclaimer: Passive members will NOT make fast earnings, but they will have received the product they paid for, and if they had bought a similar product elsewhere they would be very unlikely to earn a cashback reward of the magnitude of the Premier Cashback reward.
Example earning, buy a nutrition product costing £50 plus P&P and when enough products have been purchased in the team you get – first an interim payment of £25, then when more products have been purchased you get a final payment of £75 – making a total cashback payment of £100 from a one-off purchase of a £50 product. I know it sounds incredible, but the diagram on the right shows exactly where the cash comes from:
Sales of products to genuine customers.
Even better cashback options on higher priced products – the limited edition art prints and originals!
Will It Saturate?
People will often wonder whether market "saturation" will dry up the number of participants in the business – but with a repeat purchase product that benefits everyone in the company, this just won't happen.
Furthermore, additional products are in the pipeline, and it will NOT be necessary to buy them to participate in the rewards generated from the new products, just as long as you have made at least one purchase in the shopping club.
Update August 2016 – More new products, including a water filtration system, have just brought another influx of sales to Premier Cashback. Even more new products are planned after the summer holidays.
My Experiences Within The Company
Summer 2015: (At this time the company was paying in Canadian $, because Chartfords was a Canadian company.) I got off to a fast start introducing people I knew the concept would appeal to, and earned my first cashback reward of $250 pretty quickly. Then I got busy in my offline business and didn't have time to build Premier Cashback – but that's OK, because my position is locked in place and others have been building it round me.
The next stage ($1100) was a little harder to achieve, but I did it. Others who have had more time have earned more rewards – which is completely understandable.
In summary – bought a piece of art for $250, and within about 6 weeks I had got that money back and still have the product and the potential for more rewards to come, so no complaints there.
Currency Unification: When the health products (billed in Sterling) were introduced, it became clear that the health products were the way forward, so rather than continue with different currencies there was a unification to Sterling. The products and business is still world-wide.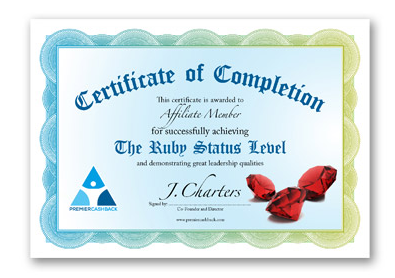 Spring 2016: One of the people I had introduced is a great Facebook marketer and he introduced two people who brought in two very large USA teams and my business really exploded. I qualified as a Ruby Member – the first rung of the Premier Cashback career ladder. I was very proud of this as it exceeded all my expectations.
Summer 2016: I have had a quiet spell with Premier Cashback because my offline business has been busy. But because I only need to order when I need replacement products, that's fine. My team have continued adding support bonuses in my back office and the business has grown while I have been working on my offline business.
Earnings Disclaimer: My team and I have worked hard and our results are not typical. You may earn considerably more or considerably less. It depends entirely on the amount of work you put in.
Faults With Premier Cashback?
Some members get the impression that they can pay their money, do nothing and be rich within weeks. Then they moan or drift off to another business when it doesn't happen. That's a ridiculous expectation – but not the fault of the company.
Even that can be turned into a plus point, because when these members find the grass wasn't greener elsewhere they may come back to promoting Premier Cashback and will find that their position has "grown" without them.
Learning More About Premier Cashback
The video below shows more:
You can have a no obligation look round the back office when you open a free account  HERE.
What Type Of People Are Attracted To Premier Cashback?
My first introduction to the club was when I attended a meeting at a hotel near Euston station on 23rd May 2015. With poor experiences of "hot air" at previous MLM meetings I'd been to I went along not expecting to be impressed – but I was proved wrong.
This was a hype-free, fact-filled presentation by leaders in the business who could answer every one of the questions people were firing at them
Although I'm not really a "meetings" sort of person, I have to admit there was something "extra" from attending and Seeing real people, just like you, who are already running this business successfully.
The room was packed with happy members – active & passive – those who had introduced members had earned well within months. Passive members had still earned money, just not as quickly. It's up to you.
What's interesting is that the majority of the members I met weren't experienced networkers or Internet Marketers – they were ordinary men and women who just want an extra income, either passively or by putting in a few extra hours a week alongside their regular job or business.
If that sounds like you, open up a free account / learn more HERE or contact us.
What Happened To Chartfords?
You don't need to worry that the name change was for any sinister reason…. the new name was for the best of reasons – company expansion.
The membership base is still in existence, with the same founders, and members new and old are still happily earning money from the program, but the owner – Jack Charters – wanted to make the opportunity even better, so he updated it.
The Chartfords product was limited edition art prints – a beautiful asset for your home, or a gift for a loved one.
But when originally approached, many networkers declined to get involved with the original program – Chartfords – because they didn't feel there would be a big enough demand for the limited edition prints. They felt that if they weren't excited about the product they couldn't promote a business they didn't have a passion for.
While I can understand this to some extent, they missed the point that (regardless of the business opportunity) many people buy art online either as a potential investment or just for pleasure. So anyone who turned down Chartfords in its early days missed a big opportunity, because the program made, and is still making, a lot of money for a lot of people.
The original format of the program was that limited edition prints were sold by the retail partner "Chartfords Gallery", an online shop open to art collectors, but with an added cashback loyalty bonus for regular customers who joined a kind of "club", known at the time as Chartfords.
The concept of paying a "loyalty bonus to repeat customers" worked so well that Jack Charters decided to add a new retail partner, Salustra, also an established business with a large customer base, selling health and well-being products. This was actually a masterly stroke, because whereas limited edition prints were occasional purchases, people usually buy the health products monthly, so cashback rewards build up more quickly for regular customers.