Premier Cashback Compensation Plan
ALL networkers and Internet Marketers think that theirs is the best compensation plan, but team leader Kevin Wilkes has made a video that explains how the Premier Cashback program works.
It usually takes a while to "sink in", but when you see exactly where the money comes from, you'll realize that this is a completely genuine business and profits are only generated by sales of products to real live customers.
Grab a coffee and watch the video below that will be available to YOU when you join our team. It may help to look at the "loyalty card image" underneath it too.
Loyalty Card Concept
Premier Cashback is based on the "loyalty card" and "tell a friend" concepts that are becoming very familiar on the High Street. On the left of the image below you see how a typical loyalty program works; the right-hand side shows how people in the team benefit from the Premier Cashback loyalty program.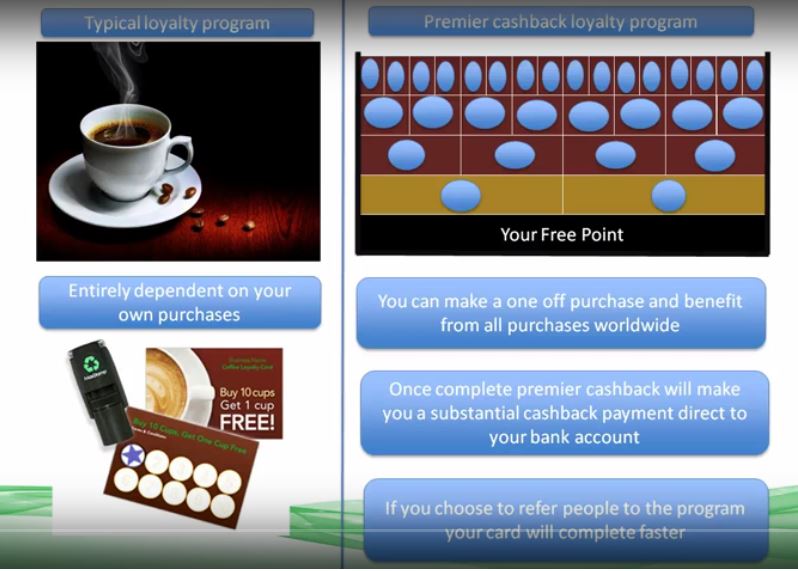 With most loyalty card plans, your card will only fill when you make purchases yourself – and your reward may be a coffee or other low value item.
With Premier Cashback you get CashBack – as much as 540%! And that's not just based on your own purchases. You can benefit from world-wide members' purchases from any Premier Cashback partner.
Now don't run off and think it's a scam, because the video above explains exactly where the money comes from, so if you didn't watch it, please scroll back up and understand it before you dismiss it.
How Premier Cashback Beats Standard Loyalty Programs
Whenever you make a purchase in one of Premier Cashback's partners' shops your "card" is stamped, and when your card is fully stamped (completed), you will get cash-back; just like the basic loyalty card concept.
But Premier Cashback loyalty shopping is much, much better, because you will get extra "stamps on your card"….
When you make purchases in any of the partners' shops (no monthly commitment)
When friends / customers you referred to the club make purchases
When their customers make purchases (etc)
OK – that's pretty standard MLM-type stuff so far, BUT you can also get credit….
When other club members worldwide make purchases
AND EVEN when non-members buy direct from the Chartfords Gallery
AND our card can even fill with purchases made in shops other than the shops you use!
The Premier Cashback loyalty plan means that your card fills far faster than if it was based solely on your own purchases – AND you will get an interim payment.
That is HUGE – and when you join the "Best Home Business" team you'll be part of a thriving group, all committed to building our own, and therefore each others' businesses.
Because any single purchase qualifies you for life-long membership with Premier Cashback….
NO-ONE EVER LEAVES THE TEAM!
The most important question to ask anyone trying to introduce you to a business is "What is the retention rate?"
How many people stay with the business?
Network Marketing Retention Rate
Unfortunately in most network marketing businesses 80% of people leave, dissatisfied and out of pocket – i.e. they fail. But no-one would "quit", as the "leaders" sneeringly call it, if they were in profit!
With Premier Cashback there's no need to quit because after a single purchase you are qualified for life to earn cashback rewards.
The only question is when?
Because it's a genuine product-based business all rewards are generated by product sales being made, so no-one can give a definite timeline as to when you will earn. Some in our team earned the 540% cashback within weeks, because they are active members. Others are still waiting because they have less time and less marketing experience.
No-one Left Behind
In OUR team everyone is doing their little bit, according to their skills and talents, so the the whole team is committed to YOUR success.
To Register With Premier Cashback Click HERE
PS – Been Around MLM Before?
If you've been around the network marketing business for any length of time you will have seen more than your fair share of different compensation plans. It's my experience that, for the average networker, there are snags and pitfalls that make them extremely tough to make money with.
Experienced networkers only: Check out how Premier Cashback compares to other plans.
Even if YOU are an "above average" networker, you will need less experienced affiliates to help build your team. You owe it to them to offer them something they can DO. Not a business where they'll quit after 2 or 3 months of auto-ship money going out, and no sales coming in.
No-one Fails With Premier Cashback
They may put their business on hold, or they may even decide to be completely passive – but, having made a single purchase, they are "qualified for life" to earn cashback.
To Register With Premier Cashback Click HERE