Premier Cashback Compared To Typical MLM
If you have been in network marketing programs before you may be aware that they're never as easy as they make it sound on the presentation.
While we don't pretend that you'll "get rich quick", the Premier Cashback plan is far more achievable than most plans:
The whole team is working together
No monthly purchases – one purchase qualifies you for life!
Kevin Wilkes has made a video that shows how Premier Cashback compares to traditional networking / multi-level marketing businesses.
This video compares two typical MLM compensation plans with the way Premier Cashback works.
When you join our team the video below will be just one of the tools available to you to introduce new members and build the team.
Please note: members who do nothing at all towards the team effort will get paid eventually, but as a passive member no-one can predict when you'll earn anything because you're relying on other people making sales. Of course you will have received the goods you paid for.
Click here for basic Premier Cashback compensation plan.
The rest of this article is probably best suited to experienced networkers and those who have tried and failed with other plans.
Loyalty Card Concept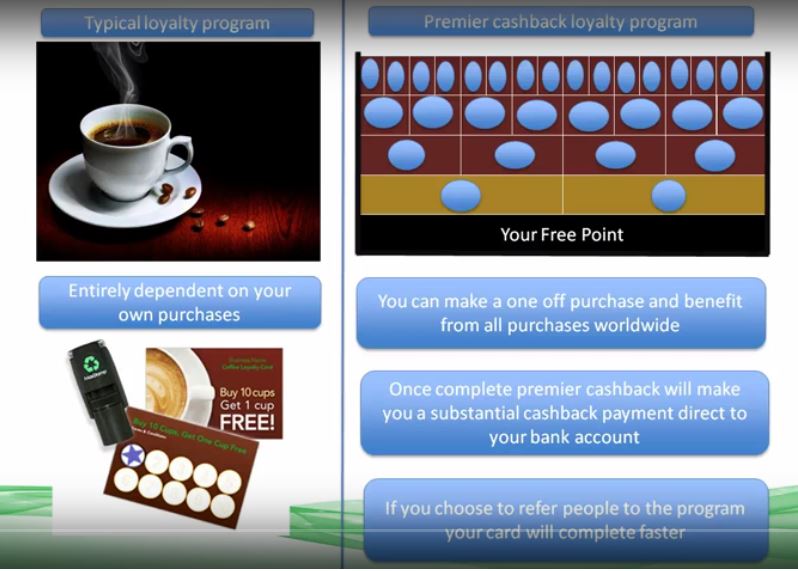 If you've not yet familiarized yourself with the loyalty card principle behind Premier Cashback, please check out this page > Premier Cashback Compensation Plan
In a nutshell, with "High Street" loyalty card plans, your card will only fill when you make purchases yourself, in one shop.
With Premier Cashback your "card" fills in many different ways, and from purchases by members you have never even met.
When it is complete you'll receive cash, not just a coffee.
How Does Premier Cashback Compare To Typical MLMs?
The information below is aimed at anyone who has ever been in a networking business before. It exposes some of the reasons why you might have had difficulty.
Typically presentations of network marketing plans show an "ideal" scenario where everyone refers 3 "friends" (which sounds SO do-able) and it's assumed that these groups of 3 also refer 3 (and so on) and everyone meets monthly sales targets, so everyone is happily making commissions and building their business.

Network Structure – What Usually Happens
Unfortunately that is usually far from what actually happens. First of all, the network is much more ragged because very few people actually refer 3 friends, then as those who joined earlier fail to meet their sales targets, or a big bill comes along, they cancel any auto-ship and leave.
The network fragments, incomes drops and eventually the "General" at the top of the tree moves onto the next project – where the same probably happens. Has this happened to you?

Network Marketing Retention Rate
The most important statistic about any network marketing compensation plan is what the retention rate is.
It's a fact that in most network marketing plans 80% of people fall-out – or in other words, fail. Because you wouldn't be likely to "quit", as the "generals" sneeringly call it, if you were making money!
Distributors in other network marketing businesses often leave because they get frustrated by the cost of auto-ships, and may even end up purchasing goods they don't need, just to retain the ranks they reached.
Premier Cashback has a 100% retention rate because you only need to make ONE initial purchase to stay a member. When you qualify for any rank, your retain it.
There are NO monthly commitments. There is an annual fee of c$250 paid into the "world wide pool" BUT you only pay that after you ave earned at least $1000. 50% of that goes to the company, and 50% is distributed to Emerald and Diamond members.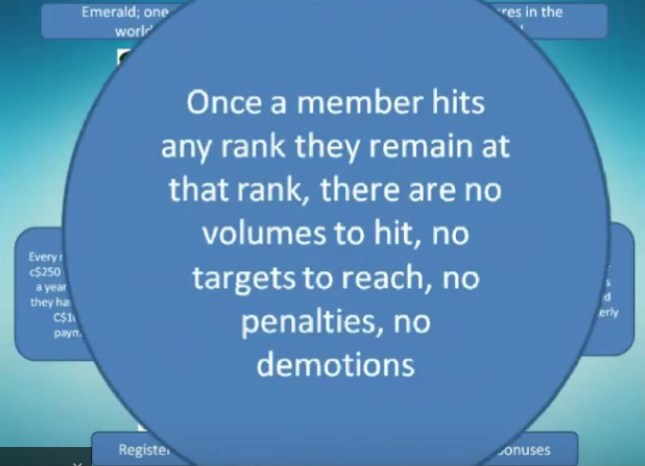 And that (above) is why Premier Cashback has 100% retention of its members.
Binary Compensation Plan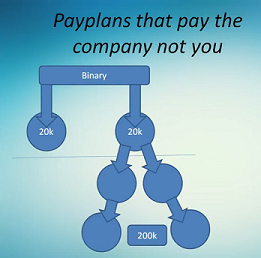 One popular compensation plan is the "Binary".
This looks good in theory because you only need 2 people on every level and the rest "spill over" onto the levels below, helping you build your business. The catch that people often don't pick up on is that you get paid on your "balanced" legs.
The usual scenario is that one leg (in this example the right leg) fills up far faster than the other, because a very active upline is building that leg. For "pay-outs" the company "draws a line" across the legs at the balanced point (here 20k) and pays you on that portion – but unless you work like crazy you can't keep up with the runaway leg so only get paid on the balanced side.
In the better companies the remainder is held over so that you can "catch up" on the next payout date – although most never do. However in some companies that money goes upline / to the company, and in fairness – it was the upline that did the work introducing that run-away leg!
Back To Premier Cashback….
Having shown the pitfalls of other plans I hope you can appreciate the major features of Premier Cashback:
One purchase qualifies you for life
No monthly commitments / auto-ship
The whole team is working WITH you
Support Bonuses For Active Members
Here are the support bonuses you'll get in the Alpha and Omega plans if you introduce new customers. These are to compensate active members who are helping the team by growing the company and supporting new customers.


Alpha, Omega, Ruby, Sapphire, Emerald and Diamond are different levels in the plan. Alpha and Omega are available to all members, the others are subject to qualifications.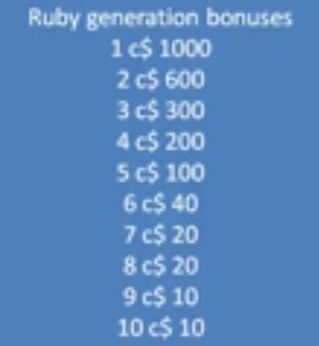 This is only the tip of the ice-berg as to what active members can achieve with Premier Cashback.
Passive members CAN generate substantial incomes from their own purchases an the purchases of others in the team, but no-one can predict when.
The ultimate career plan is to become an Emerald or Diamond Premier Cashback member and participate in the World Wide Members pool. This is available to serious networkers.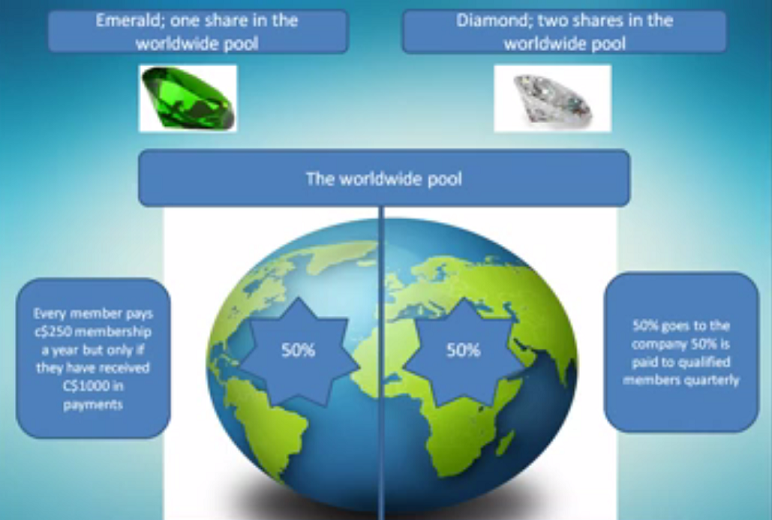 If you think you qualify for our career plan, please Contact Us giving details of your previous experience and we'll schedule a call or meeting with one of our leaders.
Register a Free Account At Premier Cashback
You can register here for a free account and when you've done that, please contact me and I'll introduce you into the Facebook group where you can watch more videos and meet the rest of our team.